In many ways, the pandemic has been something of a cultural reset.
Ironically, it has also kept cultural institutions and other "non-essential" businesses closed — cinemas, libraries, bookstores, art galleries and anywhere else where one would go to enrich their mind and soul. June 26, then, is surely marked in the calendars of those who cherish art, history and creativity: it's the day that museums finally open their doors to us again. A week later, so will heritage centres.
They'll be the first arts venues to do so in Phase 2 of Singapore's exit from the circuit breaker, so they'll be proceeding with masked caution. Expect the standard measures — temperature checks, SafeEntry check-ins and check-outs — and the not-so-standard ones, such as the lack of tours, or audio guides and headphones, as well as limited group sizes of five people. Social distancing is included.
Still, we doubt that will hinder culture vultures from seeing any of the exhibitions below.
1. Fashion Revolution: Chinese dress from late Qing to 1976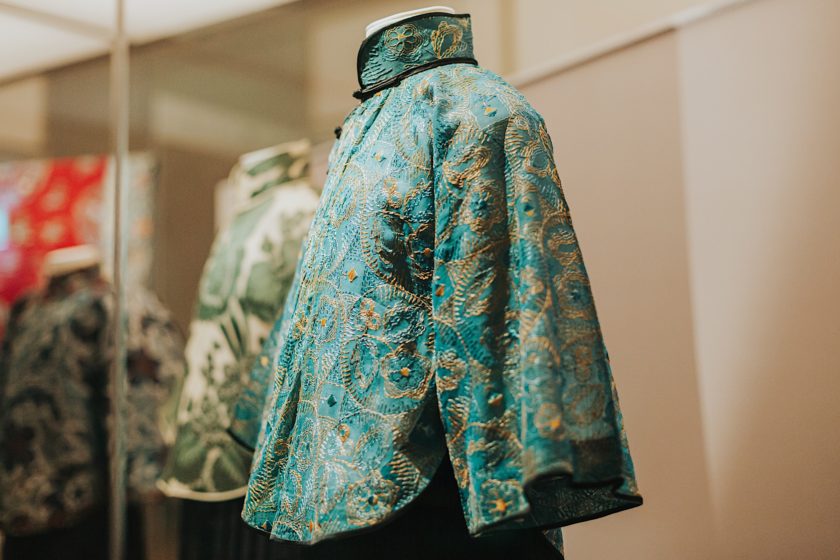 (Photo credit: Chris Hall, courtesy of Asian Civilisations Museum)
Asian Civilisations Museum had only just launched their Fashion and Jewellery galleries before the circuit breaker was announced. Now, you're free to explore their collections, comprising over 400 Asian masterpieces.
The Fashion and Textiles gallery is especially enticing after the museum's blockbuster exhibition for Chinese couturier Guo Pei. There, the museum is showcasing over 40 authentic Chinese dress pieces — think rare dragon robes, vintage qipao designs and the Zhongshan suit (or the "Mao Suit"). Aside from exquisite textiles and craftsmanship, the clothings also illustrate a century of Chinese history and culture.
2 . urn of the Sun
(Photo credit: Aeropalmics, courtesy of Cuturi Gallery)
As part of its program to nurture emerging Singaporean artists, Cuturi Gallery is now showing a solo exhibition by Dawn Ang, AKA Aeropalmics. Ang is remarkably meticulous — you'll notice as much in her pencil drawings, digital paintings and papercut art pieces.
But it's wall sculptures that she turns to for her "Turn of the Sun" exhibition, which reflects the cyclical motion of the universe. Each one is hand-cut from plywood and made all the more intriguing with Ang's charcoal drawings. The results are monochromatic artworks that won't look out of place in nature.
3. The earth and her skin
(Photo credit: Art Porters Gallery)
Priyageetha Dia is a name you might already know: she's the artist behind the gold flag installations that sparked a nationwide discussion on art, and more recently the target of a racist outburst from another local artist, Jonathan Lim.
But if you're unfamiliar, her solo show at Art Porters Gallery can serve as an introduction. Curated by Kimberly Shen, Dia's exhibition "the earth and her skin" is an exploration of brown identity and perception through symbolic objects. These are marked by paint, fabrics (especially latex) and golden surfaces — Dia's signature medium.
4. Post Art Fair
(Photo credit: Ota Fine Arts)
If you missed Ota Fine Arts' "Post Art Fair" before the circuit breaker, here's your second chance. The group exhibition showcases new paintings from a diverse range of artists.
Everyday scenes are given new context in the artworks of Chris Huen and Maria Farrar, hailing from Hong Kong and the UK respectively. In Hilmi Johandi's oil painting, however, the scene is deliberately staged — a technique often used by the Singaporean artist. Cat lovers will be drawn to the felines featured in Nobuaki Takekawa's painting, through which the Japanese artist explores socio-political issues. On the other end of the spectrum are the abstract works by local visual artist Guo-Liang Tan, as well as pop art icon Yayoi Kusama, who offers an addition to her Infinity Nets series.
5. Latiff Mohidin: Pago Pago
(Photo credit: Latiff Mohidin, courtesy of National Gallery Singapore)
National Gallery Singapore is presenting a retrospective of works by the legendary Malaysian artist, Latiff Mohidin. The exhibition, which was first staged at the Centre Pompidou in Paris, features over 80 artworks, including sketches, sculptures, prints, photographs and poetry.
The highlight of the show is Mohidin's seminal "Pago Pago" series, which reflects the artist's travels during the turbulent '60s. The paintings were also a way for Mohidin to challenge the dominance of Western modernism, inspiring his distinctive approach to form.