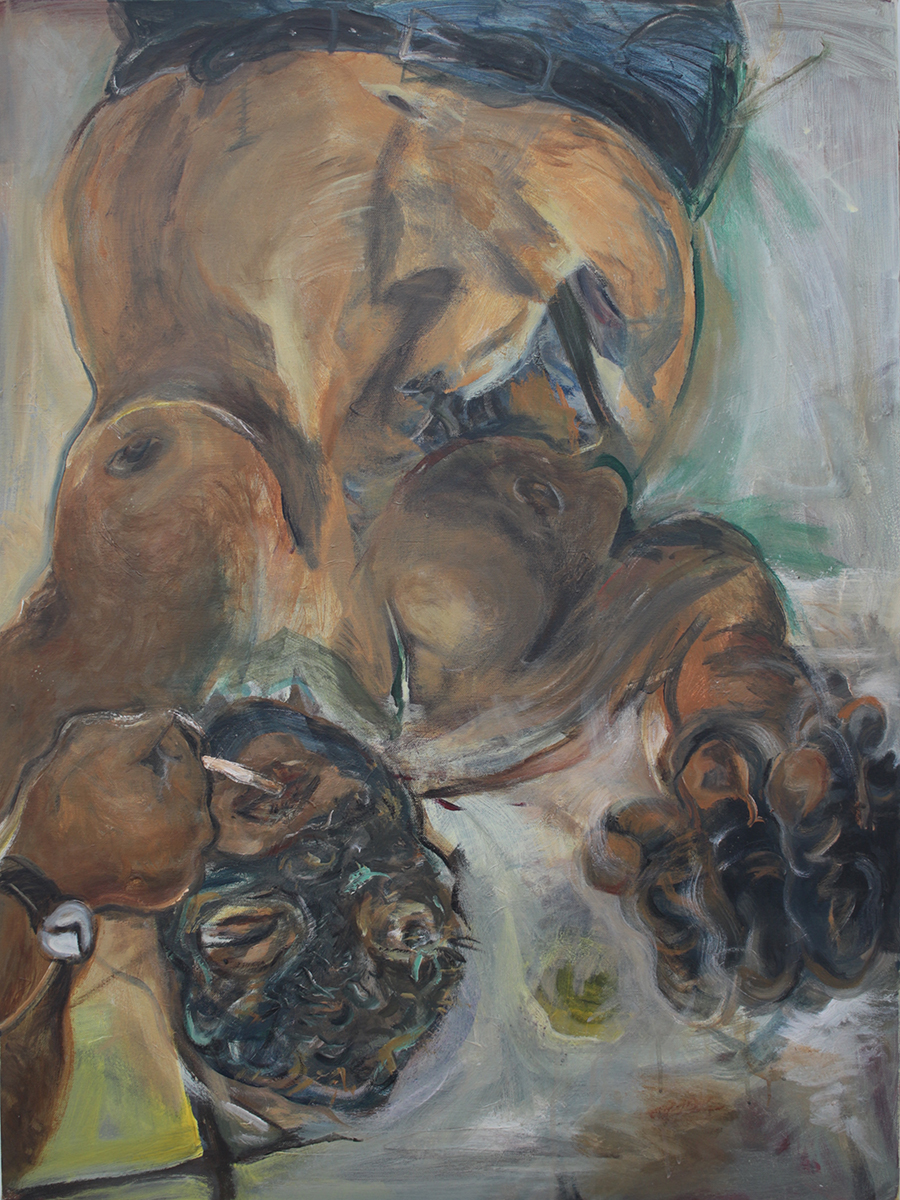 Daily life is a nightmare in Faris Heizer's first solo exhibition. In these paintings, everyday routines such as taking the train, having dinner and using a public toilet become scenes of Dostoevskian torment. Bodies are dysmorphic, spouting multiple limbs and heads, or merging into each other. The backgrounds, janglingly delineated or crazily tiled, are one churning headache. (Or anxiety dream. There are a lot of toilets and people caught with their pants down.) In the COVID-19 era, where everyone's trying desperately to look on the bright side, the Singaporean artist provides a dose of good, clean misery.
The recurring motif in the ten acrylic-on-canvas paintings, all dated this year, is the figure of the salaryman. Dressed in suits or white long-sleeved shirts, he is a figure of loathing and fascination. In a horde, these white-collar workers are portrayed as a Hydra-like mass. Morning Rush (all works 2020) shows a 'bouquet' of commuters at a turnstile, squeezed at the bottom, bodies and limbs indistinguishable from one another, heads fanning out. As individual specimens, they are trainwrecks. Job Hunting's white-collar guy is thickset and balding, puffing away on a cigarette, rushing somewhere. Pantless. Under his black blazer is a pair of boxer shorts.
This exhibition would leave a nasty taste – ie boho artist sneering at boring nine-to-fivers – if there wasn't some degree of empathy.

And Faris can relate. His suffering is writ large in sludgy works that express a range of negative emotional conditions, from minor unease to full-on hysteria. His paintings are, in the symbolic and expressionist traditions, coloured by his interiority: think bleak grey-brown palette, brutalist handling of bodies as melty lumps, fractured surfaces and so on.
In this world, forced socialisation is a form of torture. In Compulsory Dinner, wavy lines reminiscent of noxious fumes divide the crowd into silos. Small Talk features two men conversing with their pants around their ankles. Forget toilet reading; this is toilet conversation. Better, Faris's misanthropy has range: it can go into more operatic registers. Take the shrill zigzag background in Monkey Business, where the proverbial beast with two backs seems literally made by the colliding bodies of two men. They are watched over by another guy whose presence is known only by his shoes and trousers, both brown.
What the salaryman represents is open to interpretation. The soul crushed by corporate capitalism? Humiliated by the superego?

The master-slave relationship also translates into situations of malevolent sexuality. Take the man in a gimp mask, either getting a cigarette held to his lips or having it stubbed out on the face (Punching Bag).
This is a breakout exhibition of a new talent in Singaporean painting. Before this exhibition, Faris, a recent graduate from the Nanyang Academy of Fine Arts, had a couple of small works turn up in group shows. They were mostly murky tableaux of fantastical scenes and with a generalised angst. With his current subject, he has found something specific to say, and he brings his technical flair to bear on it. He has opened a rich vein.
Faris Heizer: Shoe Shufflers at Coda Culture, Singapore 19 September – 3 October 2020