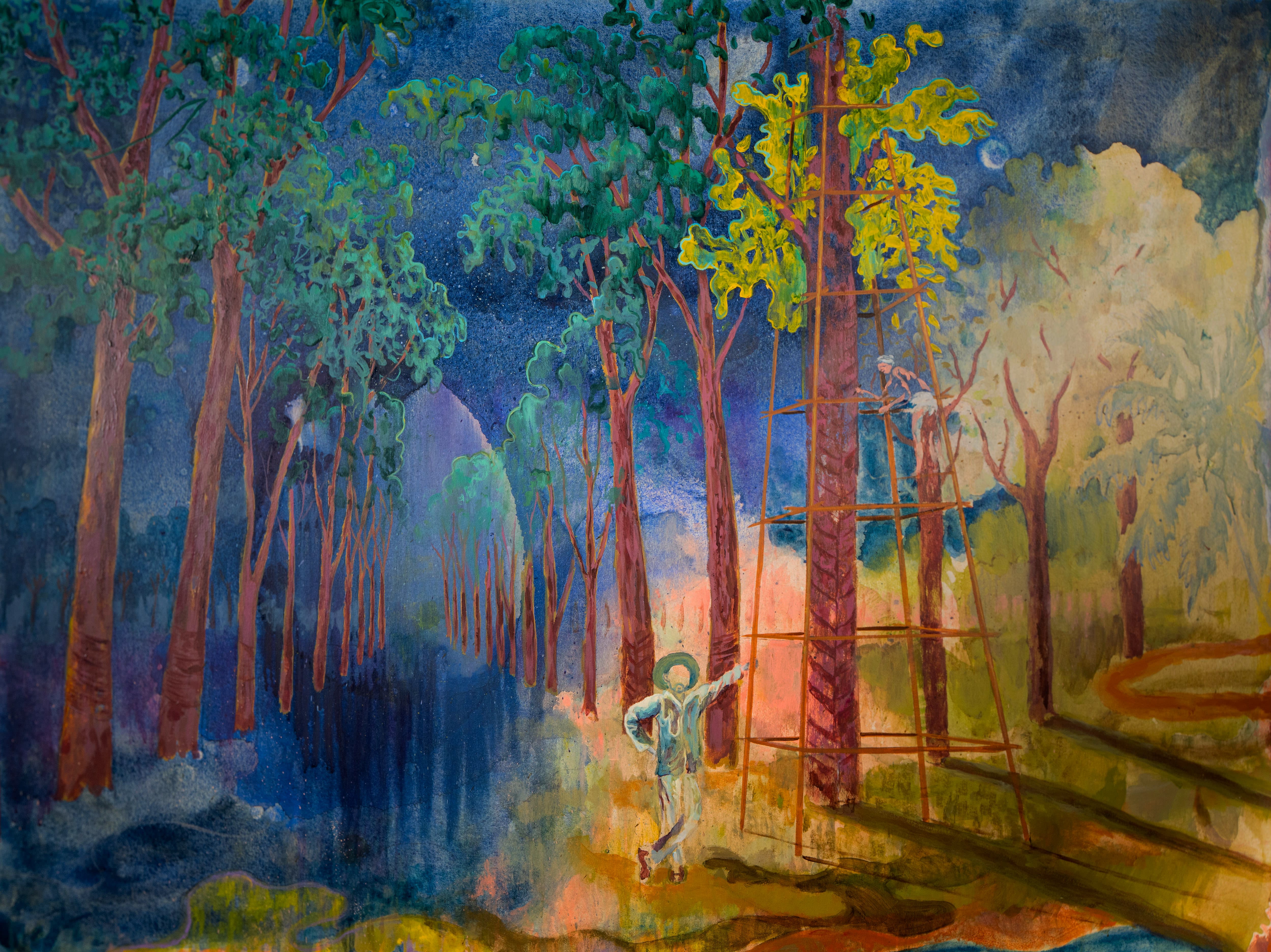 This week, don't miss out on The Word for World is Forest, the first solo show by rising artist Khairulddin Wahab. Credit: Cuturi Gallery
This week, don't miss out on an intriguing new ceramic art installation by artist Genevieve Ang taking place at cult dessert restaurant Kki Sweets – it's also accompanied by a brand new seasonal menu, served on custom made ceramic wares by the same artist.
Over at National Design Centre, Rope Chandelier, a new installation by legendary creative directors of Singapore's design scene, celebrates the art of experimenting and making mistakes – a hugely important factor in the creative process.
Lastly, Cuturi Gallery will be hosting The Word for World is Forest – the first solo exhibition by fast-rising artist Khairulddin Wahab, which invites viewers to re-consider mankind's relationship to nature.
---
VISIT A CONFECTIONERY MEETS CERAMIC EXPERIENCE
Ceramics has been a growing force in recent years – both as a hobby and in the fine arts sphere. The latest and most intriguing in the scene is a two-part experiential showcase at Japanese-inspired patissiere Kki Sweets.
Titled In space, A sign and Me: Time respectively, the first is an installation at the space by popular ceramic artist Genevieve Ang, who will be showcasing a series of sculptures that examines the perception of time, with each work meant to question one's permanence and impermanence.
Accompanying the installation and in collaboration with Ang, the second part of the experience, Me: Time, sees the debut of a new seasonal menu by Kki Sweets that celebrates the art of living – the delicate confections are exclusively meant for dining in and will be showcased on ceramic wares custom made by the artist.
"I think in a nutshell, this showcase is about two crafts and letting our minds imagine beyond how these crafts are conventionally presented," explains Ang. "Ceramics has seen an unexpected revival in the last couple of years but I think there is still so much more it can do because it is everywhere, from your house basin, toilet bowl to cups. This showcase is actually an inspiration that started from a commissioned clock piece."
More details here.
On now till November 21 at 3 Seah Street, #01-01
CHECK OUT AN "UNFINISHED" DESIGN-MEETS-ART INSTALLATION
There've been growing calls for more space to experiment, make mistakes and embrace "failures" – both in the education sector and in the design industry. The latest installation at National Design Centre seeks to do exactly that.
Titled Rope Chandelier, it is a collaboration between several iconic figures in the local design scene: creative directors Theseus Chan (of design firm Work) and Priscilla Lui and Timo Wong of interdisciplinary practice Studio Juju.
Fashioned out of everyday objects, Rope Chandelier seeks to "celebrate the importance of the creative process" and all the necessary stumbles, experimentations and accidents that come with it, as any creative, designer or artist will attest.
It's fantastic to see a work that takes joy in having fun in experimenting and breaking out of safe territory – and if that speaks to you, head down to the National Design Centre to check it out for yourself.
On now till September 26 at 111 Middle Road
VISIT THE FIRST SOLO EXHIBITION OF A RISING ARTIST
Cuturi Gallery continues its blistering streak of spotlighting emerging artists – the latest is The Word for World is Forest by Singapore artist Khairulddin Wahab, who previously snagged the top prize in the 2018 UOB Painting of the Year competition.
His first solo show, The Word for World is Forest takes its name from the 1972 novel of the same title by American science fiction icon Ursula K. Le Guin. Khairulddin's painterly works focus on what has lately become an unavoidable issue: man's fraught relationship with the natural environment.
However, rather than taking a confrontational stance, Khairulddin's paintings invite viewers on a gentle journey into the heart of our relationship with nature – traversing the histories of colonialism, capitalist economies and ultimately, the systems that have manipulated our understanding of the natural environment.
Alongside the artworks, there will be an exhibition publication featuring essays from the show's curator Syed Muhd Hafiz and Tony O'Dempsey, an environmental consultant involved in fieldwork and analysis in support of Environmental Impact Studies in Singapore. If that sounds like a lovely proposition, head down to Cuturi Gallery this weekend.
More details here.
August 21 to September 12 at 61 Aliwal Street