Gallery shows are returning in a big way post-Phase 2 (Heightened Alert). Here are some recommendations.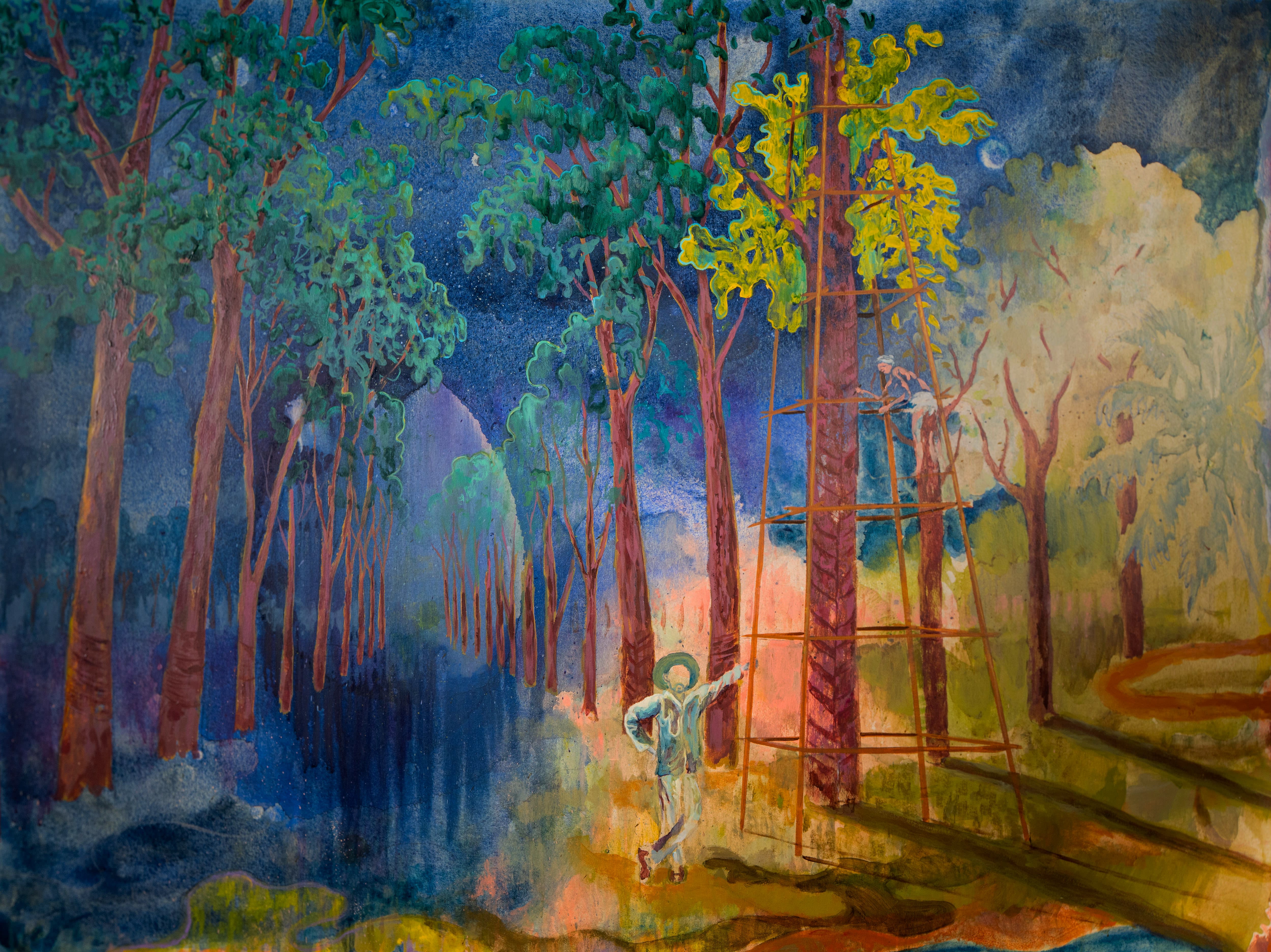 The Word For World Is Forest
By Khairulddin Wahab
At Cuturi Gallery till Sept 12
SINCE winning the top prize at UOB Painting Of The Year 2018, Khairulddin Wahab has been quietly working towards his first solo show in a commercial gallery. The Word For World Is Forest opened in Cuturi Gallery over the weekend with a splash: over 80 per cent of his works, priced from S$2,500 to S$9,400, were snapped up on the first day.
In fact, it was his biggest and most expensive paintings that were the first to sell. His lush aesthetics, complex paintwork and grand themes of humankind's historical relations with the environment certainly appear to work best on large canvases.
Many paintings depict human attempts to control and exploit the natural landscape. A few paintings capture a moment in Singapore's history when colonial-era capitalists arrived and converted swathes of wild land into plantations for cash crops like rubber and gambier. But these figures are often seen alone and engulfed by the landscape - suggesting that nature could never be truly conquered.
The artist says he is interested in the concept of "disenchantment", or how our scientific and secular world increasingly devalues humanity's spiritual side - to which he includes the pagan and animistic cultures that existed long before organised religions. That may explain why all the images appear familiar but also strange and uncanny.
Before The Birth Of Eden
By Joanne Pang
Yavuz Gallery till Sept 5
Coincidentally, in the same UOB competition in the same year, Joanne Pang clinched the gold prize, which is one notch lower than the Painting Of The Year title that Khairulddin won.
She has a solo show now at Yavuz Gallery, a collection of new paintings and sculptural works whose strength comes from their radiant fusion of colours, shapes and textures. Her visual idiom is both abstract and representational, with biomorphic forms that appear simultaneously familiar and aloof.
Pang is inspired by the strange nature of memory, how it is persistent but also malleable, how it adapts to our feelings and reconstructs the past to suit our present. She expresses these ideas through the structure and materiality of the works. But, at a pure visual level, these works are simply a joy to look at.
Remembrance Of A Friend
By Chng Seok Tin
At The Arts House till Aug 29
Was there ever a Singapore artist as tragic and beloved as Chng Seok Tin? A prodigious talent for many years, she began to lose her eyesight in her early 40s after an unfortunate accident in 1988. She began to "rely on her feelings" instead, creating the art in her head and executing them by sensory intuition.
Remembrance Of A Friend is an exhibition arranged by the family of the late artist. It showcases works from 1975 to 2016, which include paintings, prints and sculptures, many of which are accompanied by wall texts written by friends and acquaintances whose lives she touched. Net proceeds from the sales will be given to Very Special Arts to help artists with disabilities pursue their artistic interests.
Understandably the showcase here is nowhere near as stunning as the recently-ended one in National Gallery Singapore, which featured her very best works. But there are some gems to be found here, including a large mixed-media work titled
Floating World
(pictured) showing faces that emerge out of a purgatorial space and float towards a sunlit sky.
Soika Vomiter's A Kind of Fun (2020)
A Most Absurd Guide
By various artists
At UltraSuperNew Gallery till Sept 11
Curated by the hip art consultancy Mama Magnet, A Most Absurd Guide is - as its name suggests - filled with outrageousness, irony and absurdity. The show features three artists from South-east Asia who have three distinct perspectives on how to survive modern living.
Singapore's HelloPigu uses their trademark Pigubao character (which looks like a longevity peach bun) to make wry observations on humanity. Jogjakarta's Krack! offers life hacks in the form of sardonic comic strips for Indonesian urbanites. Cebu's Soika Vomiter paints images of people disintegrating in a mad and overwhelming world.
The show is perfect for young, casual collectors with a sense of humour.
Only Losers Left Alive (Love Songs For The End Of The World) - Part Two
By various artists
At Yeo Workshop till Aug 29
If the world came to a stop tomorrow, what might it look like? Curator Louis Ho gathered eight artists to imagine. And the result looks like a psychotically exuberant end-of-the-world party where all the guests have disappeared or died, leaving behind an empty room filled with art and music playing non-stop.
Victoria Hertel covered the floor with black sumi ink and gum arabic, as if sludge had flooded the room and dried. Masuri Mazlan laid out sculptures of architectural ruins decaying in mysterious ways. Geraldine Lim filled a wall with drawings of a weird amphibious creature that might have survived the apocalypse. Melancholy lounge music by Mark Chua and Lam Li Shuen plays on a loop like sounds from another world.
If you can't decide which of these five shows to visit, pick this one. Only Losers Left Alive is the kind of exhibition you walk into and want to live inside for a while.