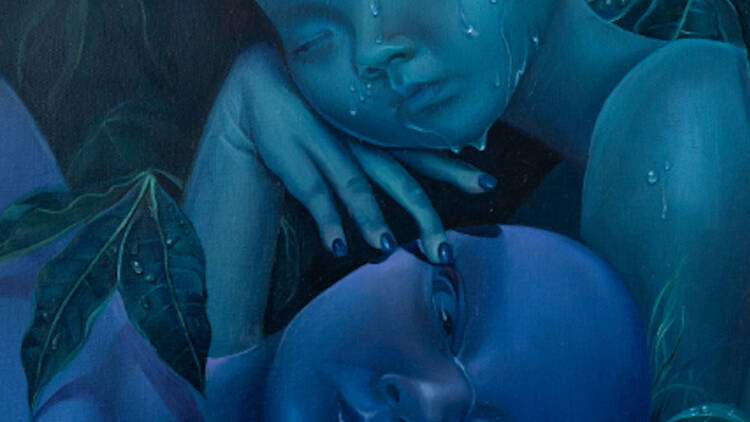 Time Out says
Life sucks, sometimes. In For The Time Being, rising artist Vanessa Liem expresses "the oppressive weight of existence" through stunning, surreal paintings. In her second solo show at Cuturi Gallery, twisted human figures with alien-like countenances are washed in a dark palette, expressing "states of anxiety, mania, vulnerability and numbness".
This is a decidedly more personal collection compared to her first solo exhibition, I Cried Bizarre. "For this series, I wanted to paint how a person felt, not how a person looked," Vanessa shares. The characters in her paintings are a self-reference, and are placed in backdrops and landscapes to create atmospheric scenes inspired by her own life and experiences.
Black Out Days (2022) speaks of numbness and desolation, as a character stares blankly out the frame with a fantastical background pictured out the window behind her; Red Room (2022) is a study in comfort and intimacy, drawing from Vanessa's own tendency to escape to her sister's room in difficult times; while Arrival (2022) is a sci-fi esque and powerful reclamation of mental well-being and identity, reflecting the artist's own inner journey.
Vanessa's works are bold, unusual, and deep with emotion – so do yourself a favour and check out her works in person at Cuturi Gallery from June 18 to July 10. For more information, visit cuturigallery.com.