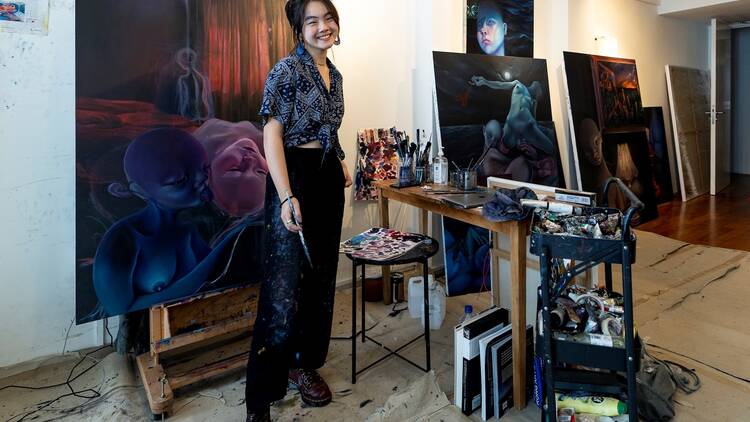 Photograph: Cuturi Gallery
This rising artist grapples with love, loss and life in her second solo show.
Bold, surreal, and unabashed. These three words perfectly capture rising artist Vanessa Liem's works, if you ask us. Her second solo exhibition at Cuturi Gallery perfectly captures this, with its depiction of alien-like figures in a dark and sometimes dystopian land – offering insights into her life and mind.
A Visual Arts graduate from the School of Arts, Singapore's (SOTA) International Baccalaureate Career-related Programme (IBCP), Vanessa's star has been rising since 2019, when she won Gold in the prestigious UOB Painting of the Year, Emerging Category. Her painting, Through Years and Seconds, is a meticulously rendered and unflinching view into the scary – but beautiful – process of ageing.
Vanessa's paintings have since taken a surrealist turn. I Cried Bizarre, her first solo outing also at Cuturi Gallery, is a comment on popular culture, internet obsession and technology via otherworldly compositions of disembodied heads, limbs, and everyday objects. The change in her style, she said, was gradual, and informed by her love of dystopian and sci-fi films. "I love how unsettling some of them are, especially when it's so familiar to our current reality. It's sort of recognisable, yet feels so foreign and wrong."
If her first solo exhibition tended to look outward, then her second showcase sees her turning inward. The result of an eight-month residence at Cuturi Gallery, For The Time Being alludes to heartbreak and loss, numbness and dissociation, the search for comfort, and ultimately – the reclamation of her mental health.
Her deep dive into her mental scape yields wonderful tensions: within the surreal (alien-like figures, a fantasy barren landscape), we find the real (puckered skin around shaved genitals, the matter-of-fact nakedness of the female form). And within the desolate (a figure staring blankly out the frame, women with tears in their eyes), we find the powerful (laser eyes shooting from a female figure, a middle finger cheekily flashed at the viewer).
Such beguiling works call for a more extended chat with the artist. Here's what we found out about Vanessa, her art, and what it means to be a young artist.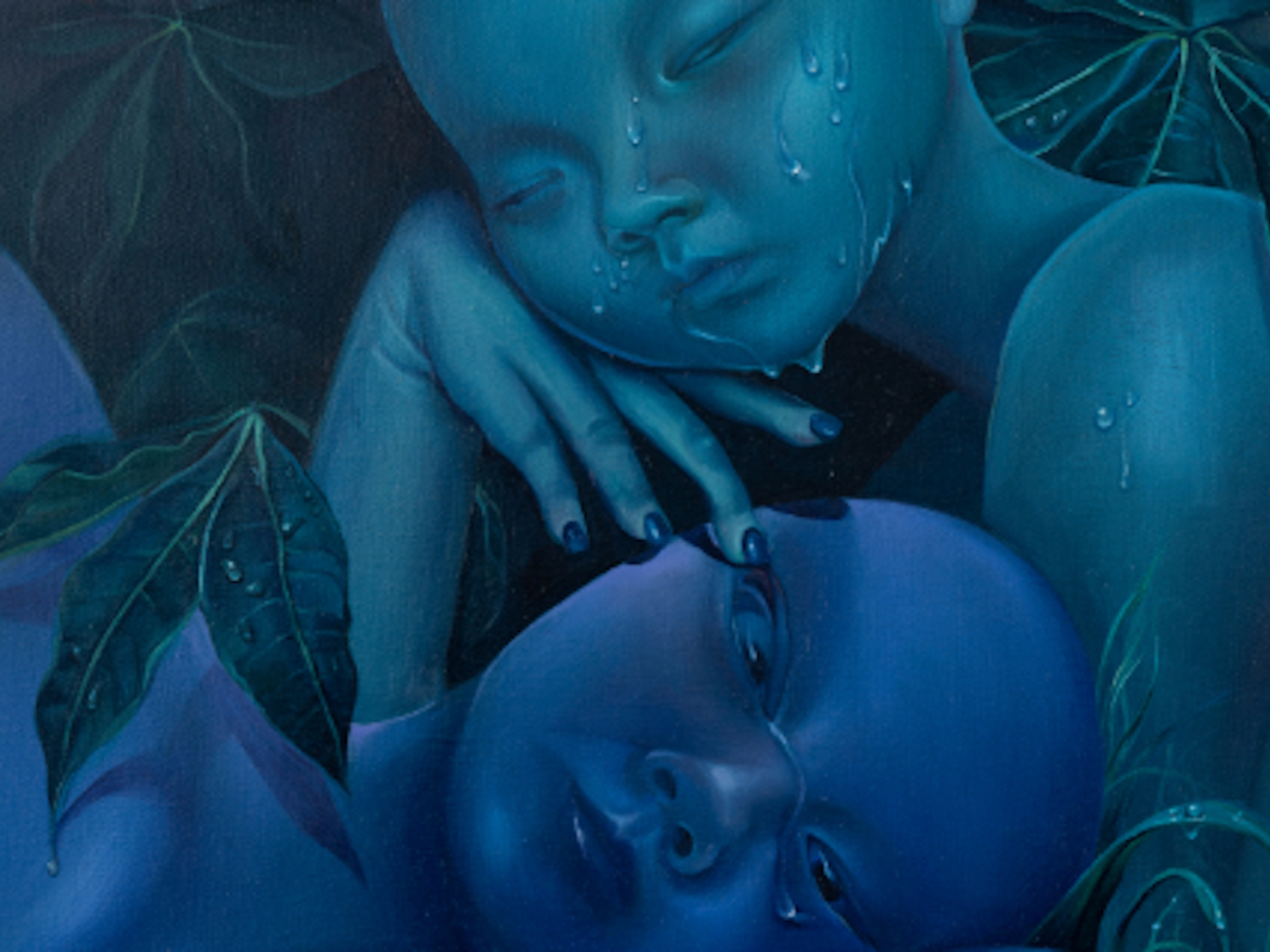 Photograph: Vanessa Liem via Cuturi Gallery
Hi Vanessa! Thanks for taking the time to chat with us. How has your 2022 been so far?
Thank you for coming down! 2022 has actually been quite nice for me. I got to learn a lot about myself and the people around me. I am also very grateful that I had the opportunity to showcase my works to the public and work alongside other painters. I think this year, I was able to experience the lowest of the lows but the highest of the highs as well. I dealt with new people coming into my life but also experienced loss and grief. But so far, I am at a point where it feels as though I have found closure and peace with whatever had to end, put my footing on the ground and now look forward to whatever is ahead of me.
Your style is distinctly surreal. Were you always drawn to this style and why?
I think it has gradually transformed from realism to surrealism since I graduated from SOTA. I have always loved films and watching these very dystopian and sci-fi movies. I love how unsettling some of them are, especially when it's so familiar with our current reality. It's sort of recognisable but yet feels so foreign and wrong. It's like opening up a whole new reality for us. It's weird but it's like you can't really look away. I also love to distort and exaggerate the body and face, but still, keep its "humanity" in a way.
Your second solo exhibition is now showing at Cuturi Gallery. What was the inspiration behind the series?
I think during this period I met a lot of people and developed relationships with different people – good and bad. Some broke apart and are traumatic, some simply drifted, and some remained. I also find myself meeting new people, like a cycle...developing a relationship with myself, who I am, my identity and stuff like that (especially when I graduated and ultimately became my own person). I think all of this affects and plays a part in our mental health, just trying to navigate life with different people and ourselves. The circuit breaker also played a big part, because I was forced to stay home where outside distractions were taken away from me and I had to face myself and whatever was happening in my head.
It feels deeply personal – what is it like putting yourself out there?
It's definitely very scary. To be honest, when I come up with new ideas and paint, the idea of the finished piece going up on a wall and people looking at it is not within my conscious mind. It just completely goes over my head. So, when putting my art up on the wall and putting myself out there, it is very scary at first, and quite honestly I feel like the fear will always be there, but it starts to feel more and more therapeutic – that it is okay to be vulnerable because it is normal, and if people want to be mean, then let them be.

As a young artist, is there anything that you particularly wish to express in your present and future works?
I don't really have any particular message because I feel that would just come naturally when I make the work. But ultimately, I do like to say there is nothing wrong with a female artist painting a naked female body. And that female artists shouldn't have to bear the weight of hiding or censoring what they are born with because of how people may perceive it.