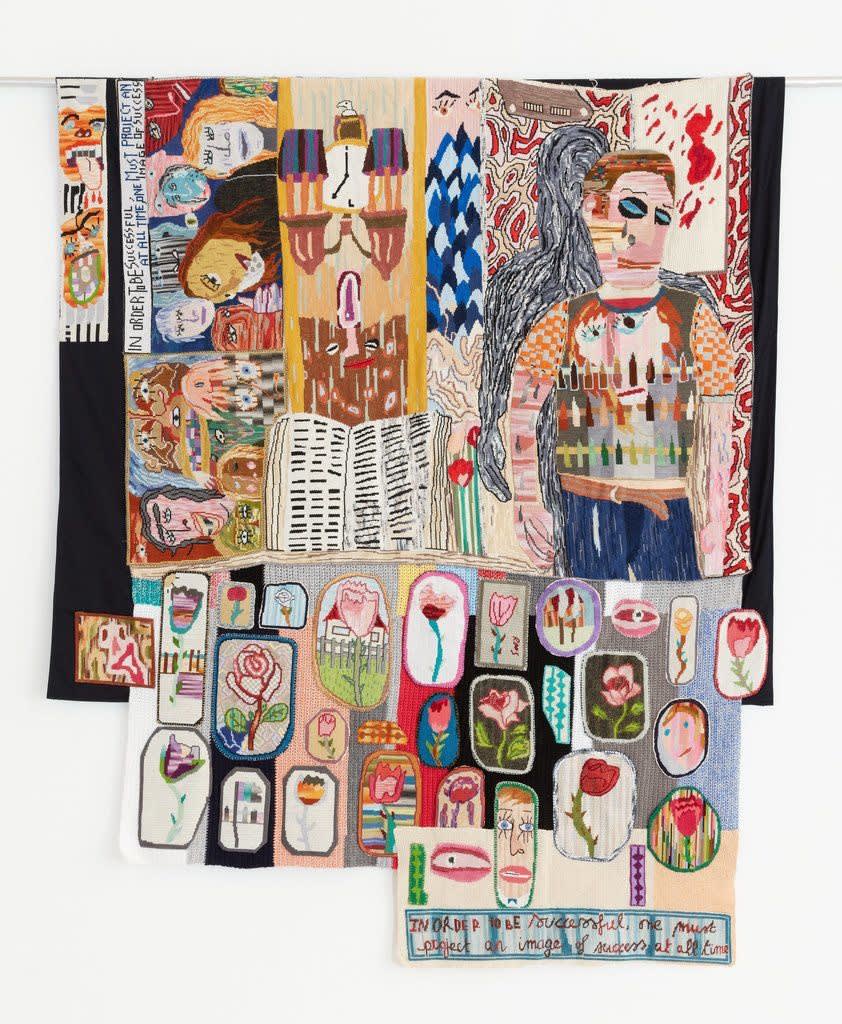 Escape Route: in order to be successful one must …
Galerie Zink
Darryl Westly

As billions reel from the effects of the COVID-19 pandemic and the world's most powerful economies go on standby, the art world is grappling with two challenges to its entire industry.
First, how does an industry largely premised on bringing people together around unique objects adapt when most public gatherings are forbidden? And, second, will any industry changes (which often come slow in the change-averse art market) matter if the global economy has gone into shock in the meantime?
One of the first major tests of this uncertain new reality has been carried out online for the past week by the organizers of Art Basel in Hong Kong and Art Central. The two fairs typically take place concurrently during the second half of March in Hong Kong, but have seen their "in-real-life" editions canceled due to the spread of the novel coronavirus.
Jenny Holzer and Artists Rights Society (ARS), NY.
Courtesy of the artist and Hauser & Wirth.
Untitled (Man on Couch), 2009
Art Basel's online viewing rooms-an initiative launched as a substitute for the canceled Hong Kong fair, with 235 of the fair's 242 planned exhibitors signing on-closed Wednesday after a week-long run. Art Central's digital catalog (which, full disclosure, is hosted by Artsy) continues through May 1st.
These experiments with moving major art fairs completely online may have been necessitated by a global health emergency, but they've also fast-tracked changes the art industry has been slowly moving toward over the past 10 years.
"The digital catalog should not be seen as a means to an end, so to speak, but rather an alternate fair experience that supports three goals: Discover. Connect. Collect," said Corey Andrew Barr, the fair director of Art Central. "Each is an important part of the visitor experience, and I believe that, in the future, the success of an online platform for fairs will be judged by its ability to support each of these functions."
Courtesy of the artist and
Blum & Poe, Los Angeles/New York/Tokyo.
Major fairs have had online portals for years, and as cultural economist Clare McAndrew's "The Art Market 2020" report revealed, more than a third of galleries' sales from fairs occur before the fair opens or after it closes. But attempting to replicate an entire fair experience online-from the VIP preview to the booth presentations-was, for many, a new experience.
"This was not the ideal situation in which to test a new platform," said Marc Spiegler, Art Basel's global director. "This was a new platform for us and a very new type of platform for many, many of our exhibitors, and it was first tested in an economic environment where the S&P 500 was losing value at at least twice, if not three times the rate that it had after the collapse of Lehman Brothers in 2008."
Nevertheless, Art Basel's online presentation drew impressive numbers, with more than 250,000 visitors exploring the online viewing rooms (attendance at last year's Art Basel in Hong Kong fair was about 88,000). More than 2,000 artworks were on view, with an overall value of about $270 million, or an average value of about $130,000-which, Spiegler noted, was partly due to participating galleries offering 70 works priced at $1 million or more. One of the fair's most novel features, beyond happening entirely virtually, was that every featured work came with a specific price or price range, a radical degree of price transparency in an industry usually reluctant to make prices readily available.
"We thought it was important to push this forward, and it was good to see that exhibitors were willing to play along with this," Spiegler said. "Certainly for a lot of collectors that was valuable-if anything, they wanted smaller price ranges."
Many of the world's biggest dealers brought works that were at the top price range for any fair, online or IRL. The majority of works in the virtual booth of Acquavella Galleries-by Lucian Freud, Wayne Thiebaud, Giacomo Balla, El Anatsui, and others-were priced at over $1 million. David Zwirner notched what may have been the fair's biggest sale, selling a $2.6 million painting by Marlene Dumas to an American collector, as well as a Luc Tuymans painting for $2 million. Gagosian sold a Georg Baselitz painting priced at €1.2 million ($1.3 million). Both galleries heavily promoted their booths on social media and have years of experience running their own online viewing rooms, which may have given them an advantage in this new format.
Friedrich Kunath
How Could One Ever Think Anything is …
Kim Tschang Yeul
Major galleries logged sales that would have been impressive if the fair had run in its standard format:
In addition to the $2.6-million Marlene Dumas and $2-million Tuymans, David Zwirner sold a Liu Ye painting for $500,000, the Noah Davis painting Untitled (Man on Couch) (2009) for $360,000, Josh Smith's 2019 painting Karma Palms #4 for $250,000, and a Lucas Arruda painting for $100,000.
Blum & Poe, which is headquartered in Los Angeles with outposts in New York and Tokyo, sold a 2018 charcoal-on-canvas work by Yoshitomo Nara for $275,000, as well as a 1997 watercolor by the artist for $150,000. The gallery also sold a Friedrich Kunath painting, The Last Perfect Day (2019), for $55,000; a new painting by Asuka Anastacia Ogawa, Walking (2020), for $48,000; and a Tony Lewis drawing, Notion (2019), for $45,000.
Almine Rech sold a work by George Condo priced between $500,000 and $1 million, a Rudolf Polanszky piece for a figure between $50,000 and $100,000, and a Kim Tschang-Yeul piece for a figure between $10,000 and $25,000.
Galleria Continua, which has locations in Italy, France, Cuba, and China, sold a metal sculpture by Antony Gormley for $482,000.
New York's Paula Cooper Gallery sold a recent Cecily Brown painting, In the sort of a kind of a something mapped (2019-20), for a price in the range of $500,000 to $600,000.
Gagosian sold Mary Weatherford's large neon painting Splendor in the Grass (2019) for $750,000. It also sold Tetsuya Ishida's grimly comic painting Derelict Building Worker's Chair (1996) for $500,000; an untitled 2019 painting by Zeng Fanzhi for $450,000; a bright yellow painting by rising star Jennifer Guidi, An Instance of Becoming (2019), for $300,000; and Jia Aili's 2019 painting Youth and Ultramarine for $260,000.
Hauser & Wirth sold a Josef Albers painting, Study for Homage to the Square: Late Silence (1960), for $600,000. The gallery also sold Jenny Holzer's 2015 painting XX 8 for $350,000, and the riotous Pipilotti Rist video sculpture Wasserschatz (Schwarzlicht) or Water Treasure (Black Light) (2019) for $140,000.
Lisson, which has spaces in Shanghai, London, and New York, sold a work by the 104-year-old hard-edge painter Carmen Herrera, Camino Negro (2017), for $850,000.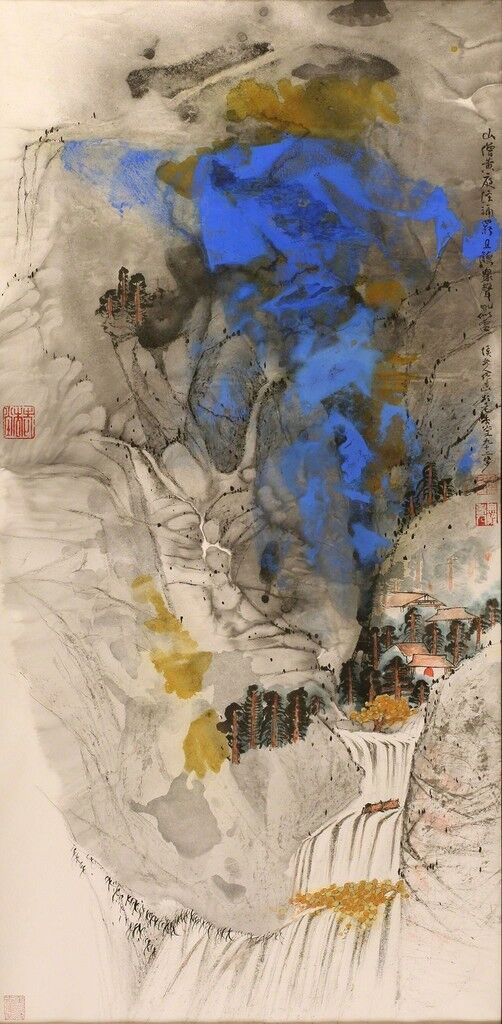 Josef Albers
Study for Homage to the Square: Late Silence, 1960
But some participating galleries had more mixed experiences of Art Basel's online fair. In some respects, it seemed to replicate many of the power dynamics that influence sales at traditional fairs-as "The Art Market 2020" report noted, fairs provide 47 percent of all sales for galleries with more than $10 million in annual turnover, but just 30 percent of sales for galleries with less than $500,000 in turnover. Accordingly, some midsize galleries were less impressed with the online fair experience.
"We have certainly not received direct inquiries or experienced sales anywhere near sufficient to make future participation a foregone conclusion-to put it gently," said Paul Gray of Chicago's Richard Gray Gallery. "Let's just say we were massively over-prepared."
For Spiegler, galleries' success in the online viewing rooms was not so much influenced by the size of galleries, but how judiciously they marketed their offerings.
"Generally, the galleries that did quite well were the ones that did a good job of promoting their online viewing room presentations, whether that was through email blasts, Instagram stories, or other channels," Spiegler said. "Some galleries even organized Zoom walkthroughs of their booths for collectors; I joined one of them, which a group of galleries had organized together, and there were 350 other people watching."
For many exhibitors, the level of engagement in the online fair also reflected a more fundamental desire for art at a time when every major gallery and museum has had to close, and biennials and auctions have been postponed.
"Given the current situation, we feel that the initiative created real impetus and it proved to be a great way for the art community to stay connected," said Brussels-based dealer Xavier Hufkens. "Our exchanges were less volatile and allowed for more in-depth discussions. We sold to regular collectors worldwide, as well as a few new Asian names, which was a nice surprise."
At a moment when most of the surprises being faced by the art world are existential crises, the ability to continue to make connections and do business in online environments appears to be a welcome bit of "business as usual" in extraordinary times.
As Art Central continues to conduct its online edition for five more weeks, Art Basel turns its attention to its marquee fair in Basel, Switzerland, which it postponed on Thursday, from its usual slot in late June to September 15th to 20th. "We hope that the situation improves swiftly, and we will work closely with our exhibitors to deliver a successful fair in September," Spiegler said in a statement. By then, Art Basel and its participating galleries will have plenty of learnings to take from this first test of moving a major art industry moment completely online.