"My painting process is often a form of divination, a backdoor access to gain insight into a question or situation."
We often talk about art as a reflection of the zeitgeist, whether is it representing a social movement or a commentary of the current happenings. For Marla Bendini, it is an extension of her thoughts and feelings about our society but more importantly, she hopes that viewers could become introspective and discover meanings that resonate with them—art is, after all, a personal venture.
Ahead we have a chat with Marla Bendini, who is part of the INFLUENCERS series of artists, presented at Alliance Française de Singapour. She takes us through her experience as being a trans-artist and the struggles the community faces in getting the recognition they deserve from our society.
You grew up in Singapore, in a difficult environment, and faced questions about your own gender identity at an early age. When did you become Marla Bendini and tell us about your first steps as an artist?
I was in a performance of Fight Club: A Chorus (by POST THEATER) at the National Museum of Singapore in 2007 and we were working on a piece based on the novel and movie by Chuck Palahniuk and David Fincher. There was a character called Marla Singer. So that's where I got the name. My birth name is Bendini. When I started gender transitioning, I needed a femme name and I couldn't think of any that would suit me. 'Marla' came at the right time. I think we don't always choose our names, I think sometimes our names choose us – we just don't know that.
I had my first solo exhibition of my self-portraits "Marla." (2009) in La Bamba, a transsexual bar in Thailand. In 2010, I staged "Conversations Between Father and Son" at The Substation Gallery, an exhibition of the self-portraits, together with video installation, music and performance. I've been making work as Marla Bendini ever since :)
What has been your latest project and what plans do you have across 2021?
I recently had a solo show 'Fairy Conclave' at Cuturi Gallery with my rendition of popular objects and figures from fables and folklore. It was a magical gathering where I told stories about how each painting came about and the personal revelations I've gotten from them.
Two group shows I was very grateful to be part of was the figurative group show 'Transcendental' at Cuturi Gallery and now, 'INFLUENCERS' at Alliance Française de Singapour! I'm always very happy to be part of multi-national group shows, especially now with the travel restrictions due to Covid but luckily, the artworks get to travel!
The next project I am very excited about is a duo solo with Victoria Cantons, an artist who happens to be a woman, transgender, and gay. The show is curated by John Silvis and will be presented in Cuturi Gallery in September.
The body is a recurring motif across your art. What story does a body tell?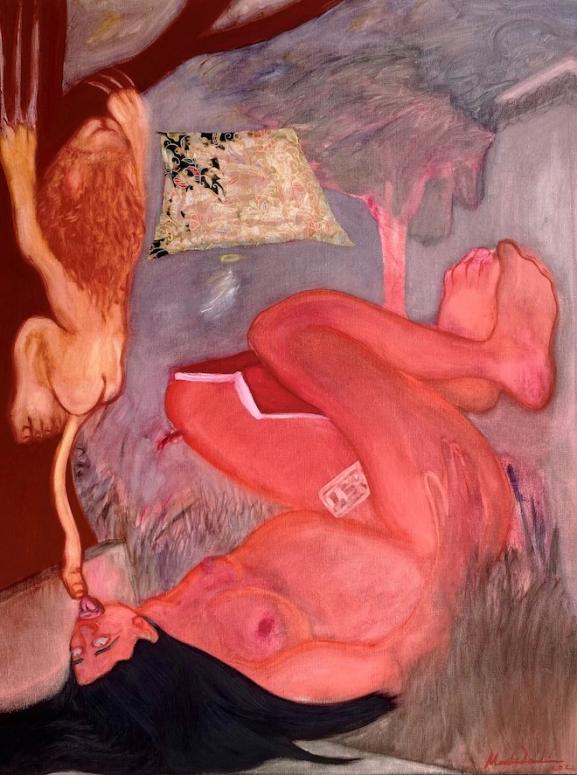 I document the spaces my trans-queer body can/cannot occupy and my relationship with my body. My body is for expressing my deepest self in physical form, so I paint these physical, emotional and psychic bodies and their longing for expression and to be heard.
In Surrender (Jails, Institutions and Death), I wrote:
"I felt like my body didn't belong to me. It was as though I was an outsider watching my own story unfold. I was scared and tired of fighting a spiritual war I believed I couldn't win. I wanted to surrender but I didn't know how. I prayed that I would just float away and return home to God."
A lot of your works are also centered around the theme of family. Is your family involved in much of your daily life?
Queer and trans folk often struggle with being their authentic selves, especially with their family. Luckily, we also have our chosen family—these are people we find to fulfil the roles of support, teaching, comfort and kinship. I'm always grateful to spend time with both my families because I tend to isolate myself when I have difficulty coping in life.
What is your creative process like? Would it be accurate to say many of your paintings are self-portraits of sorts; a reflection of your state of mind at the time?
I use a combination of writing, drawing, painting, collage and printmaking to create my experiences. My painting process is often a form of divination, a backdoor access to gain insight into a question or situation. I treat the canvas like a seeing mirror and ask myself 'What am I seeing here? How am I feeling right now? What I am afraid of?'
What emotions do you hope your viewers experience when looking at your art?
I hope my works hold space and takes them on a journey and speaks to them in a way they understand about themselves as they did for me.
What are the challenges you've faced as a transgender artist in Singapore?
The biggest challenge is to be yourself in a world that is trying to make you like everybody else.
What changes do you hope to see in society's attitudes towards the trans community in Singapore?
Social change cannot happen without education, outreach and advocacy and so it is important to support trans-affirmative social services, businesses, educators and cultural workers including trans youths and trans individuals!
What is the role the artist plays in society?
I think of this question as why do we need art? Art conveys the universal human experience and expression. Art documents. Art examines. Art connects. Art reveals. Art heals. Art inspires.
Art is often a vehicle for social change. It can give voice to the politically or socially disenfranchised.
The five words that best describe your art?
Why, don't, you, tell, me ?*
*DM me on IG: @marlabendiniart!
What can visitors expect to see from you at INFLUENCERS 2021?
I'm showing a selection of portraits that were inspired by Fauvism. Each angel/fool has a unique and powerful gaze. We hung them up in an angel's wings formation and I hope visitors will sit and look at them for a while.
If you were to name one mentor who has inspired you in your life and path as an artist, who would that be?
Funny you should ask! His portrait 'YELLOW MAN' is actually on the wall :)
Lee Wen and I often talked about our own struggles with freedom, pain and personal autonomy. He taught me rejoice is a slow release of pain in times I felt broken, lost and defeated but also helped me to find faith when I shared with him my fears as an individual, an artist and a believer.
---
Marla Bendini's art pieces are currently on display at Alliance Française (Singapore).
Date: 8 May to 19 June 2021
Time: Monday: closed
Tuesday to Friday: 1:00pm-7:30pm
Saturday: 9am-5.30pm
The Gallery is opened with limited access and only groups of 2 are allowed to enter. To book a slot, please visit this website: https://www.eventbrite.sg/e/influencers-tickets-155756121753
Location: La galerie, Alliance Française de Singapour, 2nd Level
1 Sarkies Road Singapore 258130
For more information regarding this exhibition, you can visit the Alliance Française de Singapour website.