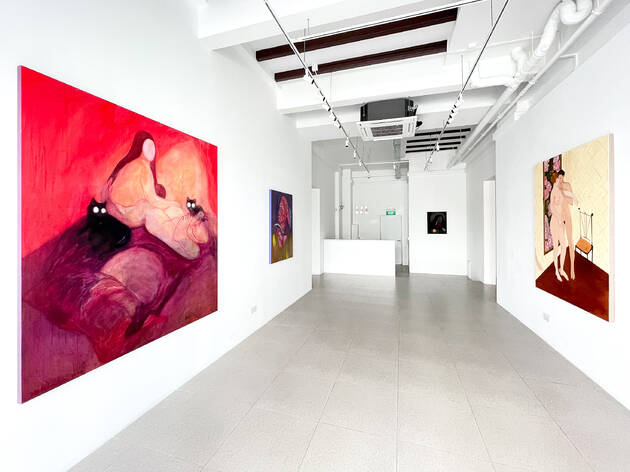 Cuturi Gallery's latest exhibition features Marla Bendini and Victoria Cantons, painters who are similar yet wildly different. For one, both artists' practices symbiotically engage with the subject of the female gaze, speaking of the female body as an object of consumption in art and literature. Both Marla and Victoria's practices are also informed by their lived experiences as transgender individuals.
London-based artist Victoria Cantons is a cross-disciplinary artist and curator with a primarily drawing/painting practice that is informed by a multinational and multicultural upbringing and a background in photography and stage drama.
"Cantons' practice is emblematic of the London art scene that has for several decades been at the forefront of pushing social boundaries," says curator John Silvis. "She is building on a formidable legacy of painters, such as Jenny Saville and Lucien Freud, who have used the figure as a powerful site for communication; and her work is able to access both the poetic and cerebral side of embodied presence."

Singaporean artist Marla Bendini, on the other hand, has been an inspiring figure in Singapore's art scene. In fact, this isn't Marla's first rodeo at Cuturi Gallery. She presented her solo exhibitions – Back Room and Fairy Conclave – in December last year and March this year respectively.
At the centre of the first gallery is Marla's painting, Pillow Talk / It Is Safe to Look Within (2021). With dominant red and black tones, the painting elicits a rather uncomfortable intensity – but that's exactly what John has intended.
"The emotional depth of her practice separates Bendini from her more obtuse contemporary peers and the beauty of her oeuvre exists in the spaces between fantasy and reality, mystery and definition," says John. "The approach she takes to painting is an act of invitation to consider the meandering path to wholeness and presence."
Entrance to the exhibition is free to the public – so head on down for a rare experience to see the art of these two extraordinary artists in one space.