"Another Round" (2021) by Faris Heizer
It's a feat worthy of applause when a relatively unknown artist manages to cut through the noise and emerge with an exhibition of their own work.
At Cuturi Gallery, then, a standing ovation is in order. That's because the independent gallery, newly relocated on Aliwal Street, is now hosting the solo exhibitions of not one but four homegrown artists.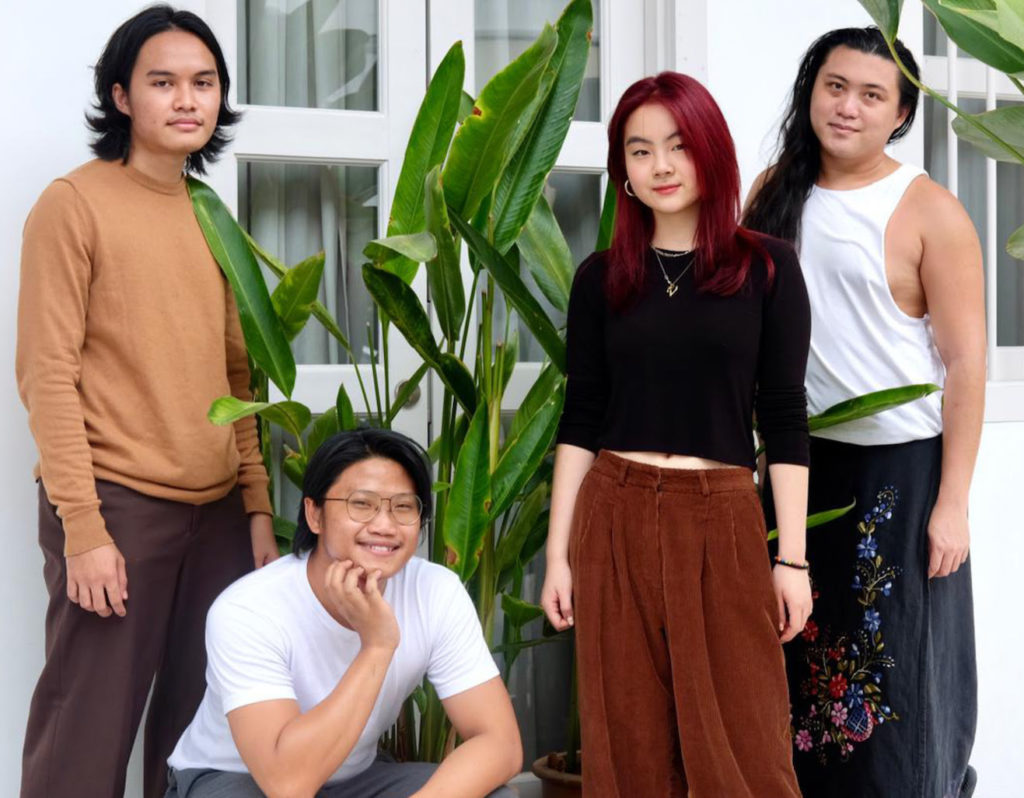 From left to right: Faris Heizer, Mujahid Jalil, Vanessa Liem and Marla Bendini.
Even more remarkable is the fact that the line-up is a diverse one: there's Vanessa Liem, a 19-year-old painter who graduated from the School of the Arts, Singapore just last year; Faris Heizer and Mujahid Jalil, both equally young Fine Arts alumni from Nanyang Academy of Fine Arts with already distinguished art styles; and Marla Bendini, a seasoned transgender artist who is now entering a new phase of her career with her paintings.
All four have been included in Cuturi Gallery's residency programme, "c/discoveries", which offers artists financial support and art tools, guidance in navigating the art market, as well as the chance to collaborate with other talents in the industry. It's under this programme that Liem and Bendini, both current artists-in-residence, created the paintings now on display at the gallery.
Vanessa Liem is currently a part of Cuturi Gallery's residency program.
The exhibitions are spread out generously across the gallery building. (It's a short walk from The Projector cinema, and you'll recognise it by the vibrant mural on its exterior, courtesy of Colombian street artist Didier "Jaba" Mathieu.) The ground floor showcases the exhibitions of Heizer, Jalil and Liem.
For the first, titled "Another Round", the 23-year-old captures the typical sights of a bar through disorienting oil paintings drenched in earthy hues. These are Heizer's newest artworks, following up from his raved-about debut solo exhibition, "Shoe Shufflers", at Coda Culture last year.
"Hitting It Off" (2021) by Faris Heizer

"Flying Pig #2" (2021) by Mujahid Jalil
In the next room, you'll find Jalil's first-ever exhibition, "What a Pig!". Working with oil and acrylic, the young artist conjured a series of paintings that focus on, well, pigs: there's one flying, another hanging from a noose, and one getting drunk on Red Bull. These absurd depictions give form to Jalil's exploration of power, and how it shapes us on both primal and societal levels.
Also making her debut is Liem, with her exhibition, "I Cried Bizarre". And bizarre, indeed; the surreal paintings on display are fronted by contorted figures with the blank faces of mannequins, each one questioning the meaning of being human.
"In My Womb" (2021) by Vanessa Liem
"Tiger Lily" (2020) by Marla Bendini
There are even more fantastical forms to discover up on the second floor, which hosts Bendini's "Fairy Conclave". Bendini's works, like the ones at her first solo show at Cuturi Gallery back in December, are rooted in the idea of identity. Her whimsical new paintings are no exception. This time, she draws on fables and folklore, offering a different interpretation of their archetypal figures.
In the wake of the announcement that The Substation, Singapore's first independent arts space, is closing for good, an establishment like Cuturi Gallery feels even more necessary — not just for the generosity it offers to emerging talents, but for us, the audience.
Art is a portal into perspectives other than our own; it asks questions about what we know and what we have always believed in, all of which deepen our understanding of the world. With its slew of new exhibitions, Cuturi Gallery goes beyond championing local talents; it also reveals the rich, diverse personalities that colour our country.